We live in a world where we have access to limited information and resources and the issues that we face are humongous. In many instances, we feel the need to have access to unlimited resources. However, as we don't live in a utopian world, we don't get access to such resources. At G K Globas, we understand this situation and accept the fact that reality is multidimensional. To cater to unique needs, we think at the margin by wearing 6 thinking hats of Dr Edward Bono.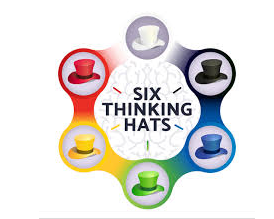 White Hat: Wearing this, we focus on available information. We look at data and play with it till the time we get answers from it.
Red Hat: Rather than only looking up to various financial models for ways to cater to the problems, we get common sense and intuitions into play and combine them with the possible solution.
Black Hat: Wearing a Black Hat, we play Devil's advocate and check if the solution is to be good to be true or not. This enables us to make our services tougher and more resilient.
Yellow Hat: This dimension enables us to become pragmatic. It enables us to navigate when reality is extremely complex. It ensures that our solution does not fail when times are tough.
Green Hat: This dimension helps us create a creative solution for complex problems. It enables us to think laterally ensuring that you sleep peacefully.
Blue Hat: While creating a customized solution is our key strength, we ensure that such solutions don't turn out to affect the client adversely. We do this by keeping a regular check on the plan and the process that is running at the back-end.